A Very Rich History
Check out our weekly
E-HISTORY FACTS
.
We have a brand-new TIMELINE OF UPPER MERION AND BRIDGEPORT SCHOOLS 1930-2020. Please help us fill in missing information and send us pictures!
At our page of EDUCATIONAL RESOURCES, find out about the Port Kennedy Bone Cave, Anna Morris Holstein a Civil War Nurse, Christ Church Upper Merion where both Civil War and Revolutionary War veterans are buried, King of Prussia Bluestone (a decorative stone prize by collectors), Bridgeport and the other Schuylkill River towns, and more about the limestone geology.
There are also BOOKS available: Upper Merion: The First 300 Years, as well as an educational pamphlet provided freely to the schools and to home schoolers.
Click through the transformation of King of Prussia from a village at a crossroads surrounded by farms to the bustling community it is today: INTERACTIVE KING OF PRUSSIA AREA TRANSFORMATION, INTERACTIVE KING OF PRUSSIA DOWNTOWN TRANSFORMATION
Did you know that The King of Prussia Historical Society began as "Committee to Save the King of Prussia Inn" in 1953? Learn more about ABOUT US.
King of Prussia Now

The Upper Merion Area is nearly unique in Pennsylvania. It is hard to find a such a concentrated mix of hotels, restaurants, commercial enterprises, business headquarters, entertainment and residential areas anywhere else in the commonwealth. It is the queen of the edge cities surrounding Philadelphia. Given so much activity now, it is easy to overlook its longer history
The Limestone Valley
500 million years ago, there was a vast inland sea on the North American continent. Shellfish and crustaceans lived in the shallower parts – over time their shells got buried and compressed into limestone. 150 million years ago, Africa collided with the Americas (Pangaea!) and broke a long strip of that limestone to the surface.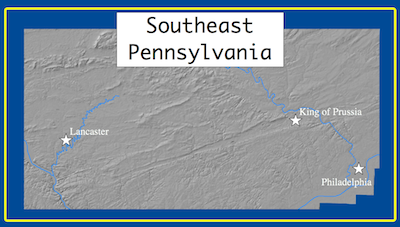 In the long years since, it eroded into an elongated narrow valley – The Great Valley, or Chester Valley – convenient for travel and very fertile for farming. Limestone was quarried here for many years, as well as King of Prussia Bluestone – a sort of incompletely metamorphosed marble which was used for decorative purposes for many years. The limestone, being water soluble, has unfortunately also given rise to the many sinkholes we have.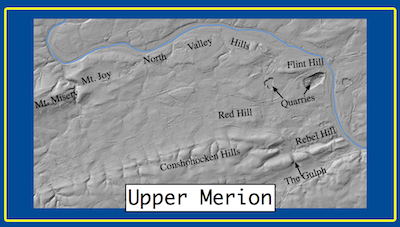 Upper Merion lies at one end of that valley. The first roads followed that valley west to Lancaster, making King of Prussia a natural hub of travel. Today it continues in that role to a much greater extent, sitting as it does at the confluence of US 202, the PA Turnpike, the Schuylkill Expressway, the Blue Route, and US 422. But it remains a valley, bounded by the Conshohocken Hills in the south and the North Valley Hills in the north.