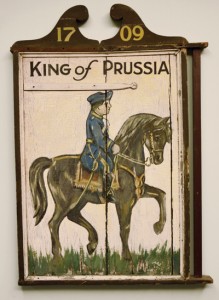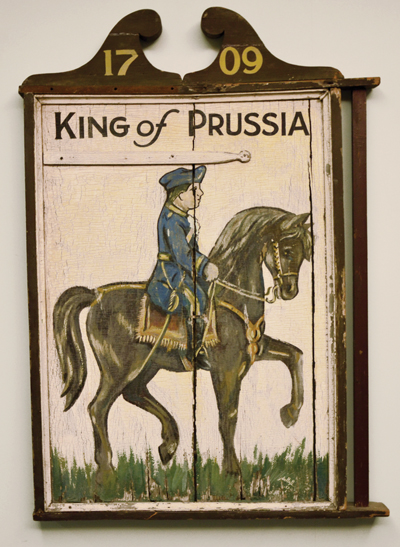 On April 24, 2012, a meeting was held at the Historic King of Prussia Inn to sign papers that would finally re-establish the King of Prussia Historical Society, and bring it back to the people of Upper Merion. This meeting was twelve years in the making.
On August 20, 2000, the 550-ton King of Prussia Inn was moved less than a half mile from its original location in the middle of US 202, to it's new home on Bill Smith Boulevard. That day, thousands of onlookers witnessed the miracle of that move; an engineering feat second to none. What grew out of saving the inn was an awakened interest in our local history, and the acute need for an organization prepared to tell that story.
A group originally established in 1953 as the "Committee to Save the King of Prussia Inn", was successful in saving the structure from being removed when US 202 was to be widened for the first time. Although it resulted in the inn being stranded between the north and southbound lanes of the highway, at least it was spared the wrecking ball. In 1956 due to the success they achieved in saving the inn, the Committee broadened its scope to include other important buildings in Upper Merion, and was renamed the "King of Prussia Historical Society". This group of dedicated individuals was extremely active in the community, and for over 30 years documented our local history and valiantly attempted to preserve it. The Old Roberts School is an excellent example of a structure saved and restored by the Society.
As more and more of our history gave way to progress, the society found itself with a building that was falling apart, and a dwindling membership. There was no real official end to the functioning Society, and when the King of Prussia Inn was moved, interest began to grow again, but somewhere along the line the King of Prussia Chamber of Commerce, the forerunner to the Montgomery County Chamber of Commerce, absorbed it. Meetings were held shortly after the Inn was moved, to try to open up the Society once again, but the idea was always met with resistance. It was not until this year that the Chamber finally agreed to allow the name to be licensed, in time for our Tricentennial celebration in 2013. The Society will be actively seeking members to help preserve our history, and share it with the community.